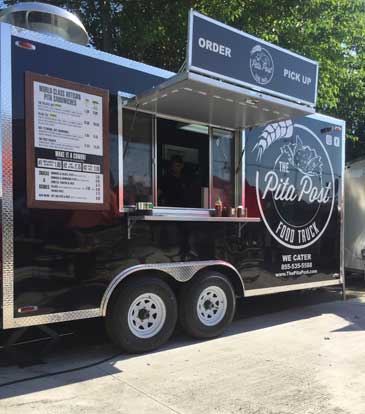 WHAT WE DO
The Pita Post is aiming to be one of the most talked about mobile food services in Michigan with a gourmet flair. The diverse menu of The Pita Post features pita sandwiches using all fresh and natural ingredients.
With bread is hand-crafted from a special recipe and  sandwiches made hot to order, every menu choice is the right one. Featured pitas are customized and unique, with a flavor that is out of this world! Your order can be created with your dietary lifestyle in mind with gluten free and vegetarian options available.
At The Pita Post, we believe in freshness made great! All of our food is prepped in a world-class commissary, selecting only the best local ingredients to compliment is blend of flavor.
We take pride in creating quality, delicious sandwiches that leave you wanting more! Our Shnitzel has gained a passionate following of fans who can't get enough! Visit our location at Detroit Fleat and find out why!
Catering:
Need information on catering? Visit our website http://thepitapost.com
TYPE OF FOOD:
Mediterranean / Healthy