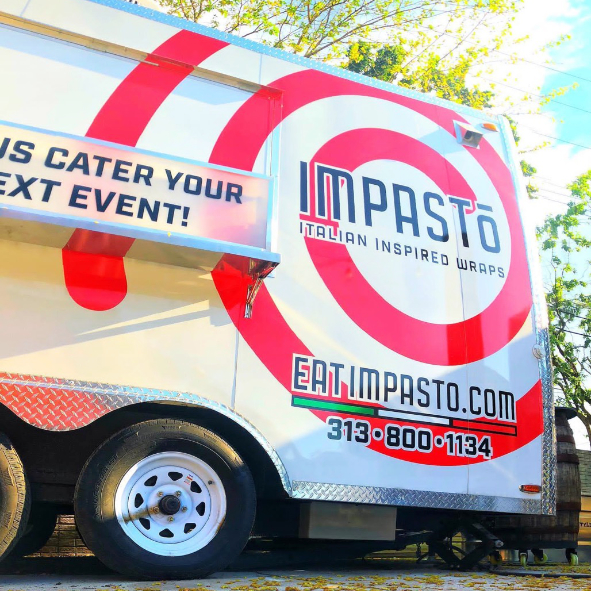 WHAT WE DO
Impasto Italian Inspired Street Food has grown a large fan base here at Fleat.
Because of their flavorful and inventive dishes, Impasto Italian Inspired Street Food has become favorite among the crowds that visit. Top notch service and quality ingredients result in a consistently delicious choice when visiting the patio.
From the owners:
"The Italian term 'Impasto' translates in English to 'Dough'. We chose this name because at Impasto we take our dough very seriously! What makes our dough so special? All our dough is made in-house to make sure your Impasto wrap tastes delicious every time! Naturally fermented with wild yeast results in a delicious, unique flavor – not replicated anywhere else.
Every Impasto is 'Griddled' for a fluffy, golden brown crust. 'Stuffed' with the freshest, local ingredients. 'Rolled' into perfection!"
We love working with our friends at Impasto because of their commitment to serving up spectacular food. From griddled wraps to Parmesan Truffle fries, all their items are a hit. Be sure to grab a cannoli when they make an appearance. However, be quick! They go fast!
If you see Impasto on the patio, pull in because you're sure to enjoy everything they offer.
Be sure to order up from Impasto the next time they take our guest truck spot!
Visit their website to find out more here:http://www.eatimpasto.com/
Because of their popularity, Impasto can also be contacted for booking information here: http://www.eatimpasto.com/contact.html
For Fleat's Guest Food Truck Schedule, visit: https://detroitfleat.com/schedule/
TYPE OF FOOD:
Italian Inspired Street Food