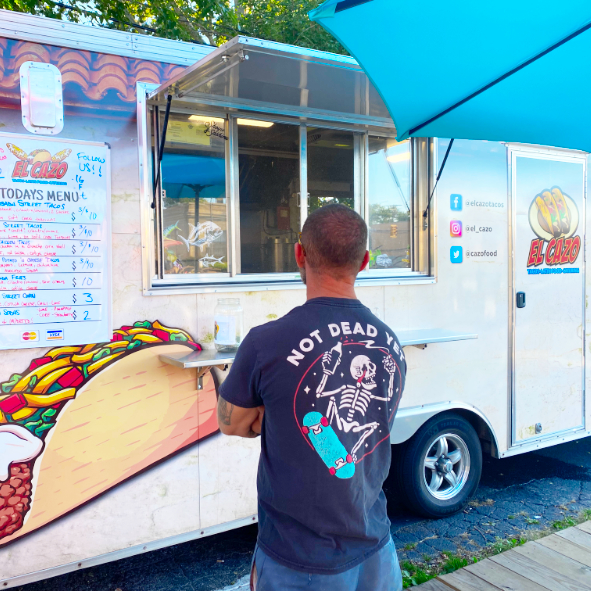 WHAT WE DO
El Cazo brings fresh, delicious tacos and elotes to Detroit Fleat every Tuesday!
We are happy to have El Cazo on the patio slinging some of the greatest tacos for our Taco Tuesdays! The spotlight is on Gabe and his truck – and wow! Does he deliver!
This review of his food makes us so happy he's joining us on the patio:
"He is Breaking All the Rules on traditional Latin food and putting out a youthful, inspired menu that will make your head spin.
Like loaded Carne asada hand-cut home fries or traditional elotes. These elotes have a twist! Dipped in a coating of  Taki or Flamin' Hot Cheetos, BBQ chicharrones! But best of all he represents Detroit and dips them in BBQ BetterMade chips. If you've never had a elotes, let me tell you – you can't imagine the buttery.. golden flavor of corn on the cob then dipped in BBQ BetterMade Detroit potato chips.!!!! It's Heaven on a stick."
If you're not ready to try this truck after that review – you're loco.
Visit their Facebook page for all the latest updates here: https://www.facebook.com/elcazotacos/?ref=page_internal
Need to know when your favorite food truck visits Fleat? Check out our schedule here: https://detroitfleat.com/schedule/