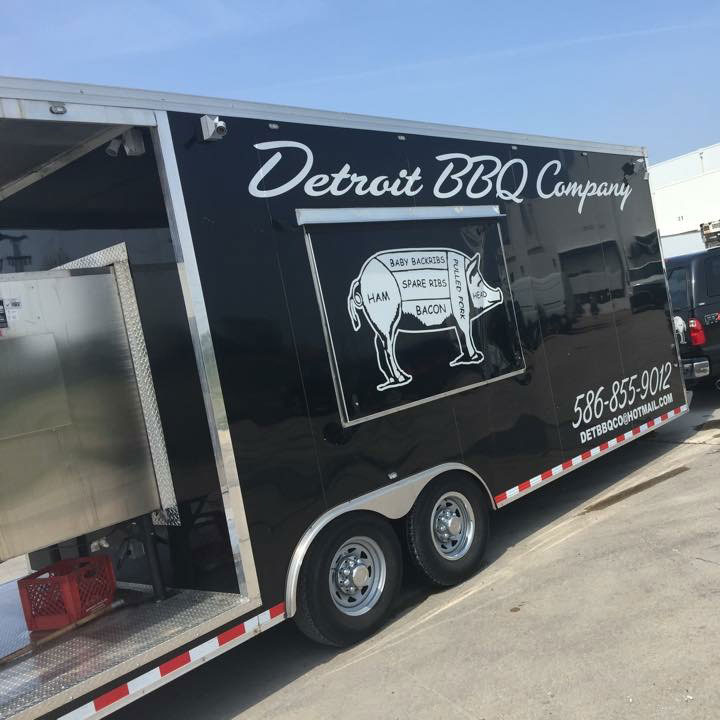 WHAT WE DO
Detroit BBQ Company
Detroit BBQ Company routinely brings loyal and hungry crowds to Detroit Fleat. When it comes to BBQ, these guys mean business. Starting from the ground up meant hard work, commitment and some amazing BBQ know-how. Here's the story of how Detroit BBQ Company has grown to be one of the best in the business.
The Beginning:
Detroit BBQ Company started off with two brothers and their buddy selling ribs and chicken at the Grosse Pointe Park farmers market in 2009. In all honesty, it was for extra beer money on the weekends. The first year went well and we were happy to be invited back for a second year.  In the off season, we learned how to make a decent smoked pork butt, the mother of pulled pork. The third week in, a request came in asking if we would cook for a  graduation party. We said "sure!" and catered our very first job. We learned there was a niche for onsite BBQ catering in Southeast Michigan. We bought our own commercial capacity smoker -we had been borrowing our friends dad's smoker!
Churning and Burning:
Business went well that summer. We added another farmers market to our rotation, this one in Clawson. Due to a stroke of sheer luck, a sales rep from the Detroit Metro Times lived close enough to the Clawson market to smell the BBQ every Sunday. Metro Times invited us to participate in their inaugural "Pig and Whiskey" festival. We immediately said yes, whiskey and pigs are two of our favorite things. Suddenly, we were playing with the big boys of the Detroit BBQ scene – Slows, Lockharts, Lazybones, and held our own. We sold out that day. The prospect of making a real business out of something we loved doing was amazing.
Keeping the Fire Going:
New smokers were needed for extra capacity to keep up with a growing demand. In fact, demand grew so large that Tim quit his day job in 2014. We purchased a BBQ trailer with a 500lb capacity smoker on it — if there was a time to go for it, this was it.
It's 2019, and hiccups and hazards aside, we are proud to say this is a job we love and are proud to serve up the best BBQ in the state.
Contact Detroit BBQ Company for catering, events or just to chat:
TYPE OF FOOD:
Smoked Meats