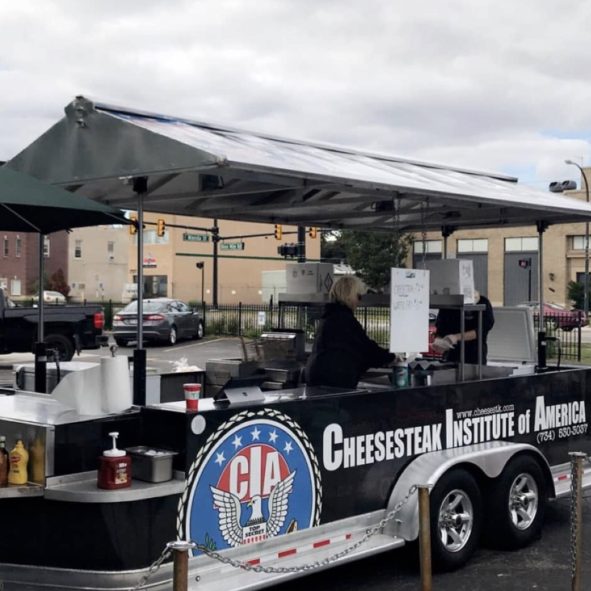 WHAT WE DO
It is widely accepted that the cheesesteak sandwich was born in South Philadelphia sometime during the 1930's at Pat's Steaks on the corner of 9th and Passyunk streets. This corner is also the home of another cheesesteak legend, Geno's Steaks, directly across from Pat's. South  Philadelphia steak houses, such as Jim's Steaks and Dalesandro's, also are world renown for their cheesesteak sandwiches.
Some sources say that the sandwich was originally thin sliced ribeye marinated in pizza sauce (more commonly known as a Pizza Steak today) until Pat's put cheese on it. Therefore, South Philly, especially the corner of 9th and Passyunk, have become "Mecca" to cheesesteak loving people everywhere. It stands to reason, then, when in the
"City of Brotherly Love" one does not order a "Philly Cheesesteak" or a "Philly"; they order a "Cheesesteak". It is outside of metropolitan Philadelphia that the terms "Philly" and "Cheesesteak" are synonymous and interchangeable.
Through the years, the "Philly" has developed into a versatile and adaptable sandwich from its basic roots of steak and cheese on a roll. When I say roll, I mean an Amoroso Roll, baked only in Philadelphia!  Regionally, there are several variations. For instance, in the Midwest one will find onions, mushrooms and White American Cheese as the norm most times. In Wisconsin, cheddar cheese, obviously, makes for a tasty sandwich. Out west, onions, green peppers and Monterey Jack cheese are common. Also Mexican and southwest fare are big influences on the sandwich: olives, sour cream and Jalapeno peppers. In California and along the Pacific Coast, the sourdough is the roll of choice. In Texas and the South, coleslaw, baked beans and pepper jack cheese are also found.
These all make for some unique and great tasting sandwiches. For the "Cheesesteak purist", most of these variations are considered sacrilege.
TYPE OF FOOD:
Cheesesteak